This event has already occurred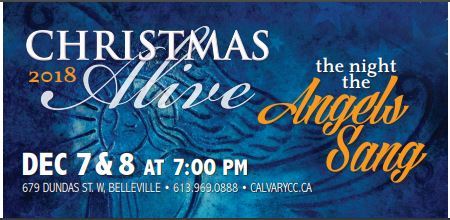 Save to your Calendar
Christmas Alive!
"The Night the Angels Sang"
Christmas Alive is an expansive multi media presentation about the meaning of Christmas. It's mix of song and drama presents the Christmas Story for both young and old and we consider bringing it to our community to be a highlight of our year.
Please accept our personal invitation to be with us when we present Christmas Alive, "The Night the Angels Sang" on Friday, December 7th and Saturday, December 8th at 7 PM.
Questions? You can reach us at [email protected] or 613-969-0888.